Create and Manage Pipelines
Create and Manage Pipelines
---
Share feedback
Thanks for sharing your feedback!
Creating Pipeline in The UI
When creating a pipeline, you can start with an empty canvas and compose your own pipeline to suit your needs, or you can use a pipeline template – one of your organization templates or one of Dataloop's templates.
To create a new pipeline, click Create Pipeline on the Project Pipeline page.
Click on the Plus icon to create a pipeline from scratch on an empty canvas, or click the template you wish to use.
When selecting a template, the template's structure and description appear in the panel on the right, making it easier to select the template that best suits your needs.
When entering your pipeline's name, please note the name is limited to 35 characters and must contain only letters, numerals, and hyphens.
Finally, click Create.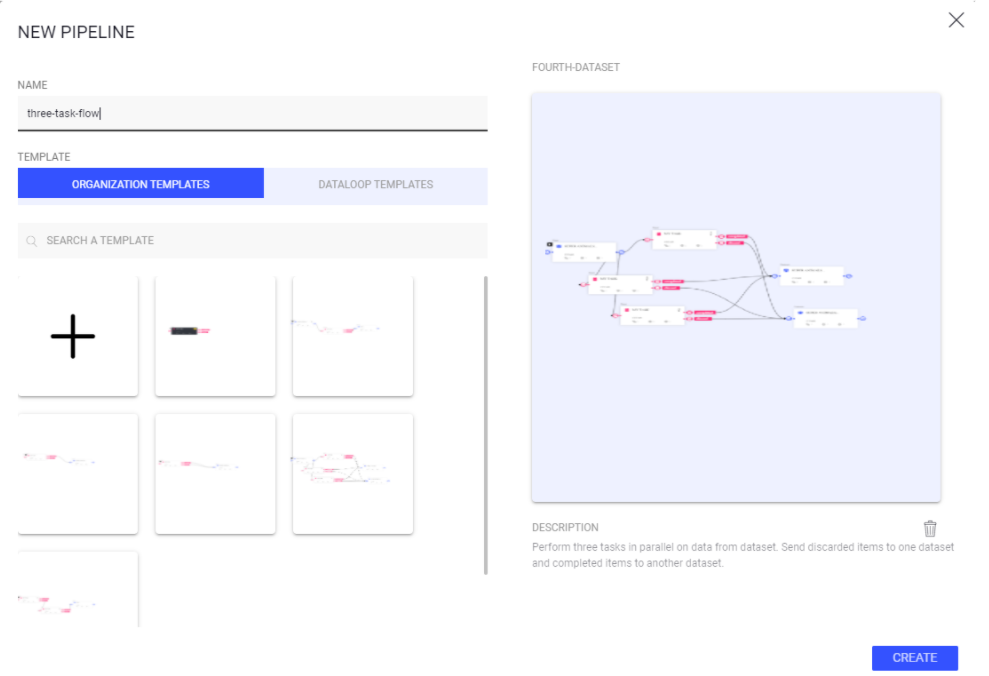 Creating Pipeline in the SDK
To learn more about creating pipelines in the SDK, click here.
Adding Secrets to the Pipeline
Go to the Pipelines from the left-side navigation panel.
Identify the Pipeline and click on the Action (three dots) icon.
Click Manage Secrets from the list.
Select an existing secret from the list, or
Click the + icon. The New Integration popup is displayed.

Enter a unique name for your secret.
Enter the secret value that you created at the Data Governance > Secrets page.
Click Create.

Click Confirm.
For more information about Dataloop secret, see the Secrets.
---
What's Next