Integrations enable Dataloop organizations to define secrets for accessing external resources in their project including cloud storage (GCP, S3, or Azure), Secure Token Service (STS), container registry services (ECR/GCR), and others.

Integrations are created and saved at the organization-level, making them accessible to all projects in the organization.
With a cloud-storage driver, setting up an integration to a cloud provider is the first step, enabling the access token to the service. It is then followed by Storage-driver, setting up a bucket and drive details, and the setup of a dataset connected to the driver that contains the synced files.
Detailed step-by-step on setting up Integrations with supported storage cloud providers are detailed here.
Add Integration/Secret
To add a new integration or secret:
From the left-side menu, select Integrations.
Note:
If unable to view the Integrations menu, ensure you are a member of the organization with sufficient permissions, and it is set as your active Organization.
Click Create new integration.
Enter a name for the integration.
Select an integration type from the list.
Enter the required information for the selected integration type.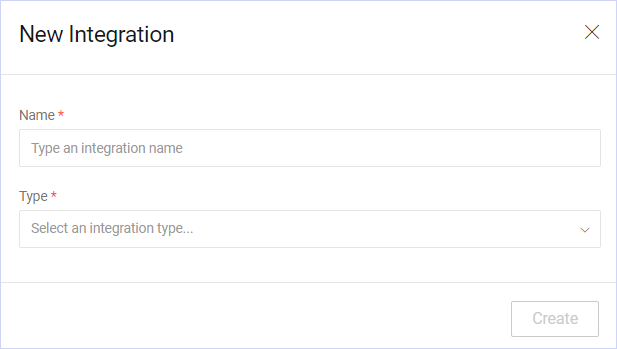 Click Create. The Integration is created.
Edit Integration
The Edit Integration feature allows users to update the input fields of integration within the system. This feature provides flexibility and convenience by enabling users to modify secrets and values associated with integration after it has been created.

Note:

The name of the integration and the type of integration are not editable once created. If you need to change these aspects, you will need to create a new integration with the desired name and type.
To access the Edit Integration functionality, follow these steps:
Navigate to the left-side panel and choose integrations.
Locate the integration for which you wish to make changes.
Click Edit (pencil) icon next to the integration's details.
Once in the editing mode, make the necessary changes.
Click Save to apply them to the integration.
---
What's Next